Royal Air Force Fairford opened in January, 1944, in No. 38 Group, Transport Command. Nos 620 and 90 Squadrons, equipped with Stirling Bombers and Horsa Gliders, arrived for an intensive training programme, during which the Stirlings took part in Special Operations, dropping agents and supplies into enemy occupied territory.
Shortly before midnight on 5th June, 1944, 45 Stirlings set out from Fairford with nearly 900 paratroops and dropped them in Normandy in the early hours of D-Day. In the evening 35 of them set out again for France, towing gliders which were loaded with 33 jeeps, 29 trailers, 11 motor-cycles, 8 field guns and 250 troops, and only one glider failed to reach the landing zone. For the next two weeks both squadrons at Fairford were engaged in re-supply operations, carrying huge quantities of stores to the beach-head. Afterwards they reverted to exercises and Special Operations which were flown almost nightly to drop supplies to Resistance groups behind the enemy lines.
On 17th September, 1944, the first day of the Arnhem operation, 50 aircraft set out from Fairford, 38 of them towing gliders and 12 more acting as Pathfinders for the main force. During the following week of intensive fighting they flew re-supply operations daily in the face of heavy enemy opposition until the action was brought to an end.
In October, 1944, the squadrons towed some 30 gliders from Fairford to Rome and the aircraft returned carrying servicemen repatriated from Italy.
On 18th October, 1944, the entire personnel and equipment of the station were transferred to Great Dunmow in Essex, and Fairford became a satellite of RAF Keevil, and later Blakehill Farm, before being reduced to a care and maintenance basis early in 1946. The Station re-opened in October, 1946, to accommodate Nos 47 and 113 Squadrons with Halifaxes, Later, Nos 295 and 297 Squadrons were based there and glider experimental work and training were resumed until it closed again in December, 1948.
Information came from this 1968 Fairford Guide
Article on Fairford's role in D-Day, published in Falcon Facts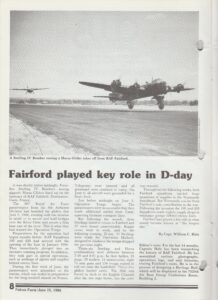 Handley Page Halifax A. Mk.9 RT922 / F of No.47 Sqn, crashed on Grindon Moor whilst attempting to drop supplies to the villages of Butterton and Grindon on the 13th February 1947 – www.peakdistrictaircrashes.co.uk/crash_sites/peak-district/handley-page-halifax-rt922-grindon-moor
The Fairford History Society has produced this fascinating insight into RAF Fairford in 1944
Original link – https://www.fairfordhistory.org.uk/raf-fairford-1944-a-most-momentous-year/
RAF-Fairford