Park & View Team
Only 80 patches are produced each year, apart from 2020 & 2021 where only 40 were produced and 2011 only 70 patches. The 2020 design includes a Grob which has the initials of a team member who sadly passed in 2019.
RIAT Aircraft Engineering Team
Patches
*No patch produced in 2019
Coins
Poker Chips
Looking for all of these  – also interested to know if any others exist?
RIAT Comms & IT Q Team
Technical
Fuels
FRIAT
Patches
Coins
Others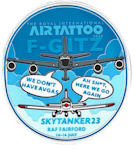 Royal Jordanian Air Force Stickers
Royal Benevolent Fund Stickers