1990
BUSY WARRIOR 90-1  – 19 Apr 1990 to 30 Apr 1990
B-52G 2nd BW : 58-0212, 58-0256, 59-2598
MIGHTY WARRIOR – 12 June 1990 to 25 June 1990
B-52G 2nd BW : 58-0202, 58-0258, 59-2565, 59-2570, 59-2588
1991
BUSY WARRIOR  29 Aug to 14 Sep 1991
B-52G 42nd BW : 58-0195, 58-0206, 58-0216, 58-0218, 58-0226
1992
BUSY WARRIOR  6 Mar 1992 to 19 Mar 1992
B-52G 42nd BW : 58-0195, 58-0216, 58-0226, 58-0230, 58-0255
1st June 1992 SAC disbanded and became Air Combat Command (ACC)
19th June – 29th June
The first four B-52Hs to visit RAF Fairford from the 416th BW
1993 CORONET COMET
3rd June – 21st June
3x B-52Hs 416th BW and 4x KC-135Es Arizona ANG deployed. 16th June 1993 the first B-1Bs arrived at RAF Fairford, two from 28th BW and one the 319th BW
Exercise Coronet Invader and Solid Stance
2nd September 1993 – 20th September 1993
4x B-52Hs 416th BW
Seen on the 16/09/1993 – 61-0015 and 61-0020 (Malcolm)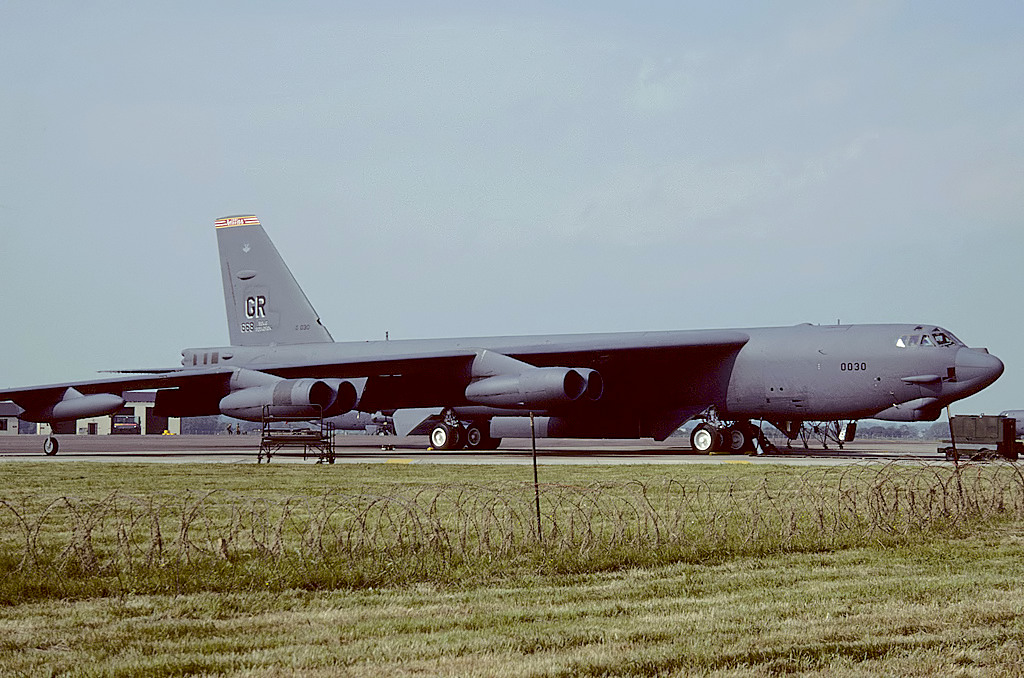 1994 CORONET NOVA / RESOLUTE RESPONSE
30th April – 15th May
4x KC-135s from the Illinois ANG
8x F-16A 182FG / 169FS Illinois ANG
Arrived/departed as Pride 11-14, 21-24
http://www.sharpshooter-maj.com/html/deploy94.htm
1994 CENTRAL ENTERPRISE
1st June 1994 – 22nd June 1994
4x 7th BW B-1Bs
Four B-1s from the 9th BS deployed to RAF Fairford on June 1st 1994 to participate in the NATO exercise Central Enterprise. The B-1 deployment was called Coronet Pluto '94 and involved more than 250 people from Dyess AFB.
During the exercise work-up phase, the Lancer crews spent time familiarising themselves with ATC procedures in European airspace. Dummy 227 kg bombs were released over the Vlievors range in Holland, and fighter intercepts were experienced over the North Sea. They also took time to work up with their co-penetrators in Central Enterprise, 48th FW F-15Es and 27th FW F-111Fs.
Central Enterprise ran from 13th to 17th June, with the B-1s active every day. During the exercise Hellion was forced to divert to Rhein-Main AB in Germany with a wing sweep malfunction.
1995 STRONG RESOLVE
17th February
4x B-52Hs from 96BS/2BW at Barksdale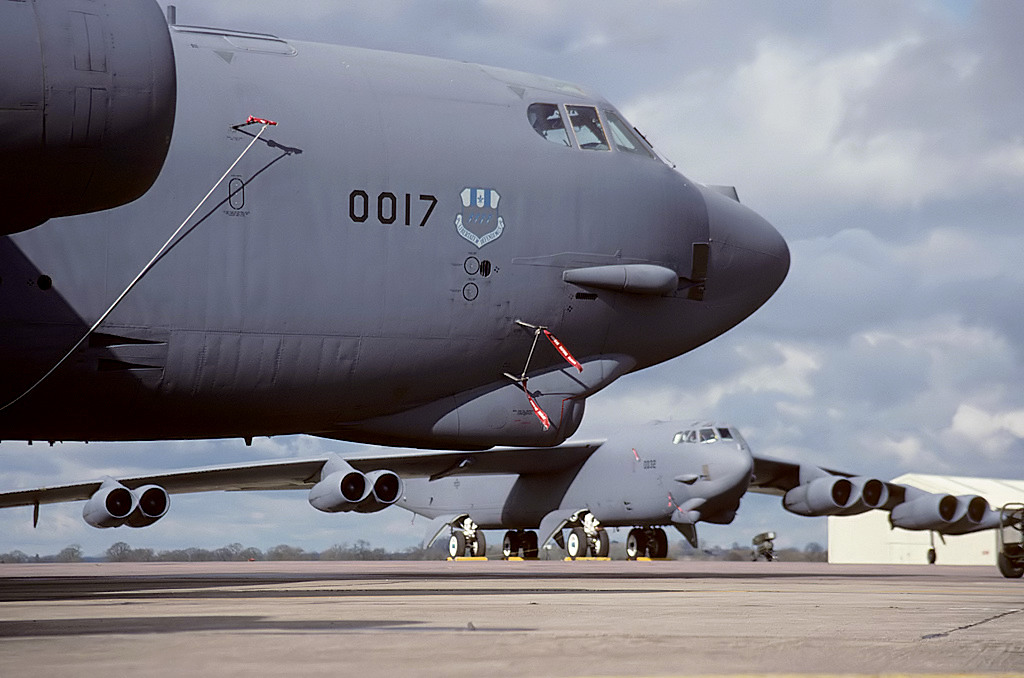 1995 SALTY HAMMER
6th – 26th June 1995 the 523FS "Crusaders" from Canon AFB deployed eight F-111F's to RAF Fairford, arriving as Trend 11-14, 21-24.
They participated in Exercsie Salty Hammer first week then Central Enterprise
70-2382 70-2391 70-2392 70-2404[1] 70-2406 70-2414 70-2419[1] 73-0715
[1] Did not depart with the rest of the deployment. Departed to Monte Real AB, Portugal 29 June for Airshow.
Returned to Mildenhall 3 July and then to CONUS 6 July.
http://www.sharpshooter-maj.com/html/deploy95.htm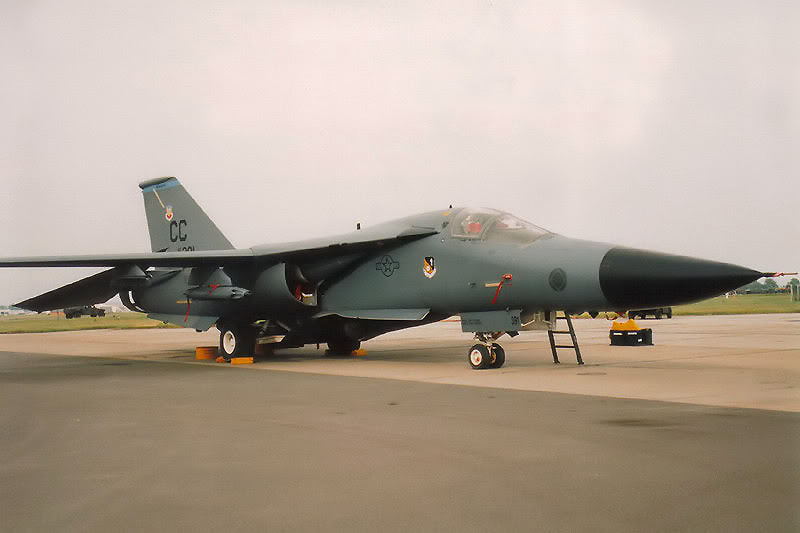 1996
Seen on the 08/06/1996 – 60-0013 and 61-0013 (Malcolm)
CENTRAL ENTERPRISE 1997
When 10 Air Force B-1Bs were gathered in June at RAF Fairford, UK, it marked the largest deployment of the bombers yet in their relatively young operational life. It represented the first time that aircraft from two B-1 wings had deployed as a single unit. Aircraft and crews from the 28th Bomb Wing, Ellsworth AFB, S.D., and the 7th Bomb Wing, Dyess AFB, Texas, flew to the British base to take part in NATO's Central Enterprise 1997 during the period June 9–27. While in the UK, the B-1s combined with other NATO units to practice the defence of Central Europe with live-fire exercises.
1998 CENTRAL ENTERPRISE
On June 9th 1998 six B-1Bs from the 9th BS at Dyess AFB arrived at RAF Fairford to take part in NATO exercise Central Enterprise.
They were 83-0065, 84-0058, 86-0108, 86-0123, 86-0135 and 86-0140.
Four B-52 Stratofortress bombers and 175 reservists from Barksdale deployed to the United Kingdom in June 1998 to take part in a series of NATO exercises. The Air Force Reserve Command contingent from Barksdale consisted of members of the 917th Wing's 93rd Bomb Squadron, maintenance and support organizations. They operated out of Royal Air Force Fairford, west of London, and began deploying 06 June 1998 and returned by 30 June 1998. In the first exercise, the B-52s took part in Baltic Sea Operations. BALTOPS is a joint maritime operation where B-52s simulated dropping sea mines in conjunction with U.S. Navy and NATO sea forces.
During another NATO exercise, Central Enterprise, the Barksdale reservists practiced integrating B-52 operations with other NATO air forces. Several U.S. units participated in the exercise, including a B-1 Lancer unit from Dyess AFB, Texas, which also launched missions from RAF Fairford. The 7th Expeditionary Operations Group wrapped-up its three-week deployment 25 June 1998 as the NATO exercise Central Enterprise ended. The 7th EOG brought together six Dyess B-1s and their 9th Bomb Squadron crews and four Air Force Reserve B-52Hs from the 93rd Bomb Squadron, based at Barksdale AFB, La.
October 1998
Of the 2nd Bomb Wing based at Barksdale AFB, Louisiana, seen here being flight prepped.
This was one of six B-52Hs which had arrived on 11.10 ("Havoc 11-16") as a show of strength against the Serbian Government regarding human rights violations in Kosovo.
Serbian forces were withdrawn shortly afterwards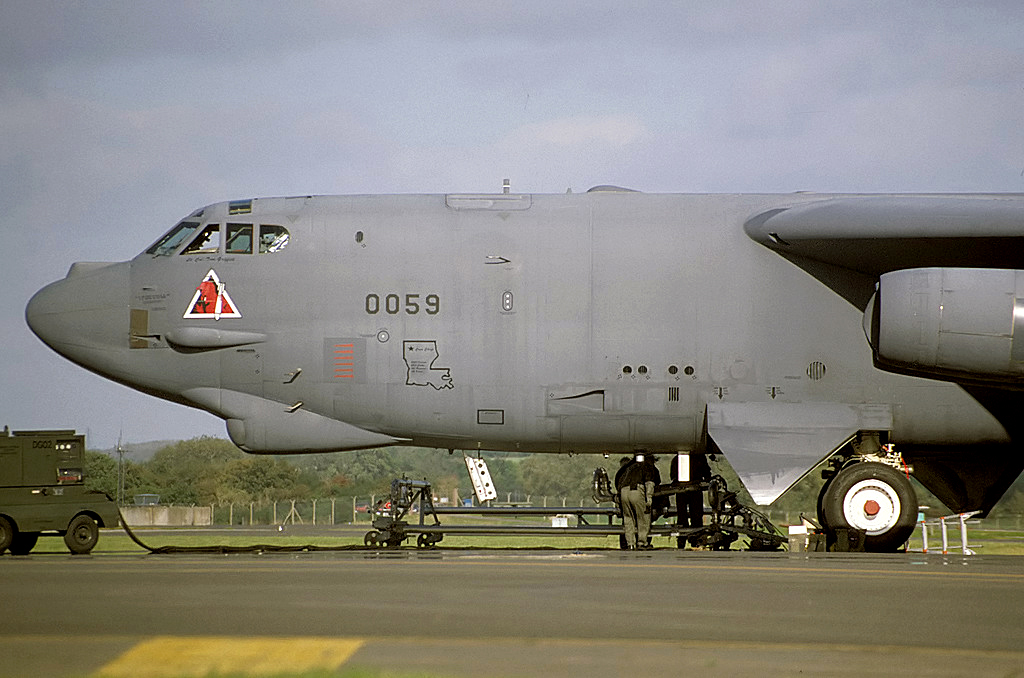 1999 – Exercise Northern Light
13th September 1999 – Two B-52s arrived
1999 – Exercise Eclipse Bravo
24th September 1999 – MC-130s and MH-53s from RAF Mildenhall deployed to RAF Fairford for a training exercise