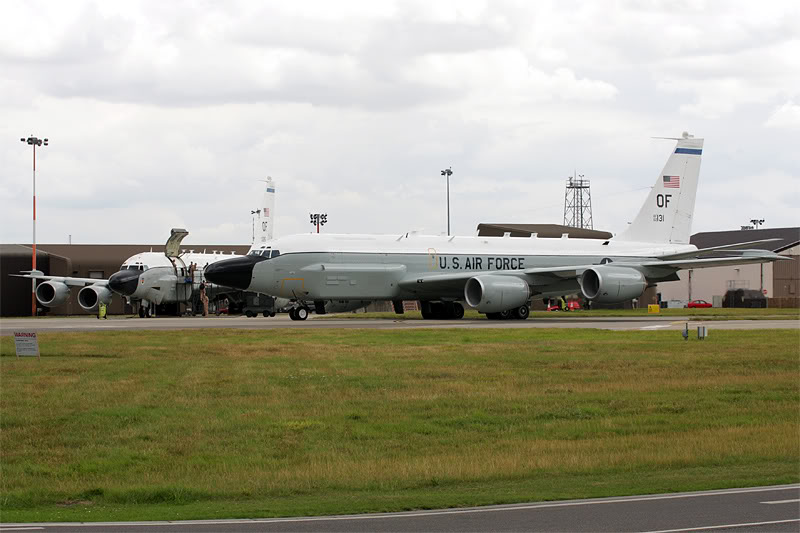 The 95th Reconnaissance Squadron was activated on the 1st October 1982 at RAF Alconbury.
Assigned to the 17th Reconnaissance Wing it flew U-2 and TR-1 aircraft in support of NATO and US Air Forces Europe missions.
The 95th RS was reassigned to the 9th Strategic Reconnaissance Wing on 30 June 1991 before inactivating on 15 September 1993. 
The 95th RS reactivated on 1 July 1994 at RAF Mildenhall.
The 95th Reconnaissance Squadron (95 RS) is a squadron of the United States Air Force. It is assigned to the 55th Operations Group, Air Combat Command, stationed at Offutt Air Force Base, Nebraska. The squadron is equipped with several variants of the Boeing C-135 aircraft equipped for reconnaissance missions.
Conducts RC-135 Rivet Joint flight operations in the European and Mediterranean theaters of operations as tasked by National Command Authorities and European Command. Provides all operational management, aircraft maintenance, administration, and intelligence support to produce politically sensitive real-time intelligence data vital to national foreign policy. Supports RC-135, OC-135, and E-4B missions when theater deployed. Although it is a component of the 55th Operations Group, main flying operations are conducted from RAF Mildenhall, United Kingdom and Souda Bay, Crete
The kicking mule emblem was officially approved on 4 March 1924 and the significance of the emblem is described as follows:
The blue disc (sky) is indicative of the arena of the squadron's mission in the air.
The mule in a strike position symbolizes the unit's striking power, swift and accurate
95th Reconnaissance Squadron Detachment 1 (Souda Bay)
95th Expeditionary Reconnaissance Squadron (ERS)
24th Expeditionary Reconnaissance Squadron
Provides flight deck crew to the 95th RS
922nd STRATEGIC SQUADRON, 95th RECONNAISSANCE SQUADRON,DETACHMENT 1 "CLUB NAMFI"
This unofficial patch was formerly worn by members of the 922nd at it moved to Souda Bay, Crete in 1990 (when the USAF left Hellenikon AB in Greece). After the unit moved to RAF Mildenhall, a Detachment 1 stayed behind at Souda Bay to continue operations there and they wear or wore this patch, according to Major Greg Ogletree. The fully embroidered patch shows a smiling RC-135 with pink sunglasses. The pink sunglasses on the RC-135 are intended to portrait the "Club Med" atmosphere one connects with that location. The "Med" was replaced by "NAMFI" which stands for NATO MISSILE FIRING INSTALLATION which is the main NATO installation on Crete while Souda Bay actually is an US Navy facility from what I have been told. This patch is worn by members of the Detachment 1, 95th Reconnaissance Squadron now.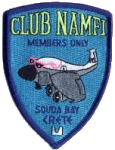 922nd Reconnaissance Squadron / Strategic Squadron
The 922nd was located at Hellenikon AB, Athens, Greece since 1 July 1978 before being relocated to Souda Bay, Crete in 1990. In 1992 the 922nd SS moved to RAF Mildenhall, UK and was redesignated as "Reconnaissance Squadron". On 30 June 1994, the unit was inactivated and a day later, on 1 July 1994 activated as the 95th Reconnaissance Squadron. While the 922nd SS at Hellenikon was assigned to SAC's 7th Air Division, Ramstein AB, Germany, it came under the 55th Wing while being at RAF Mildenhall.