In 1977 the United States Air Force realised it needed more tankers in the European theatre to support the growing numbers of NATO aircraft in Europe, and to supplement the tankers already based at RAF Mildenhall. After much study RAF Fairford was chosen as the new base.
News item in Air Pictorial August 1978 – 'R.A.F. Fairford, Glos., is to be the base for fifteen U.S.A.F. Boeing KC-135 tankers, Defence Minister Mr. Fred Mulley announced on 5th July. Strong public protests prevented the use of Greenham Common, the original choice.'
Article in Aircraft Illustrated November 1978 – 'The arrival of KC-135 Tankers at RAF Fairford in September for operational trials did little to silence the Cotswold protesters. However, an open day at the base 17 September attracted nearly 20,000 visitors to look at the aircraft. If the MoD gives final approval five KC-135s will move in early next year, building up to a fleet of 15 by the end of 1979. It is significant that there has been little opposition from the villagers in Fairford itself and the area immediately around, many of whom well remember the last time that it was a USAF base with B-47 Stratojets.'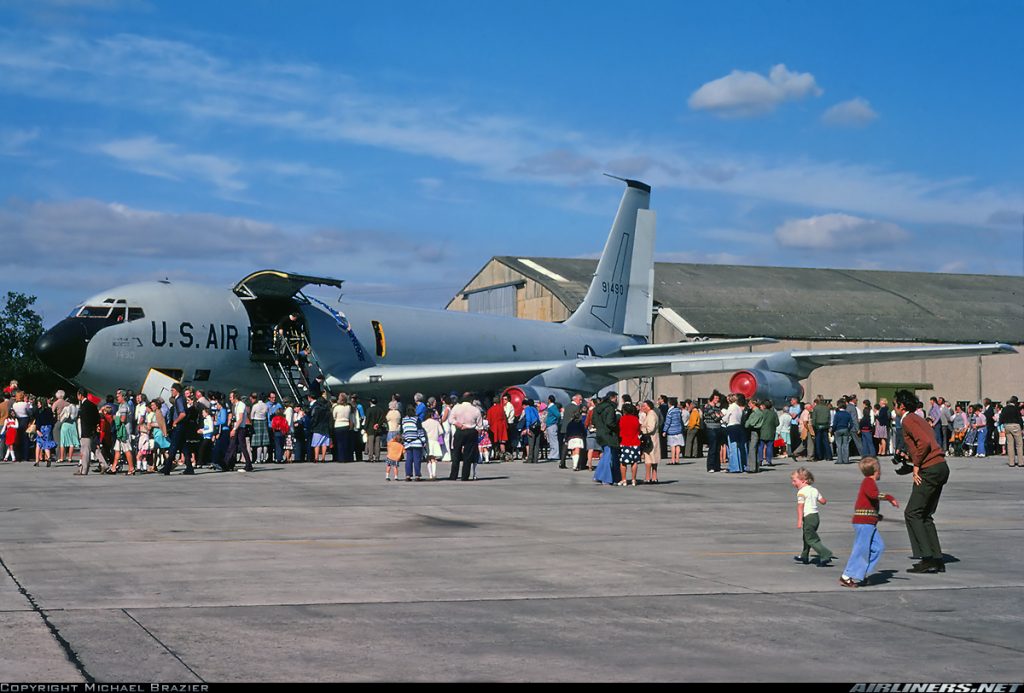 RAF Fairford was reactivated as a USAF tanker base in September 1978 when six KC-135s arrived for Exercise Autumn Forge. First arrival was 6th Sep and on the 13th five were in place for a 2 week trial to establish whether Fairford was suitable for tanker ops.
All aircraft were Mildenhall TDY –
KC-135A – 71441 92BW, 38026 305AREFW, 38035 2BW
KC-135Q – 80045 380BW, 80117 and 91490 both 100AREFW
15 Nov 1978 – 11th Stategic Group was established
1 Feb 1979 – USAFE activated 7020th AB Gp at Fairford to prepare for KC-135 tanker operations
1 Jun 1979 – USAFE officially designated Fairford a primary installation
15 August 1979 – The first increment of 11 SG TDY personnel arrived at RAF Fairford
1st Sep 1979 – USAF officially took over the main gate
13th & 14th Sep 1979 – First 5 KC-135s arrived on exercise Cold Fire
20th Sep 1979 – Ceremony took place to receive the base from the RAF
18th March 1981 – The 11th SG reached its full complement of 15 KC-135's
25th March 1981 – An F-111E crashed on take off from RAF Fairford due to a faulty Angle-of-Attack indicator. Pilot 1LT Collins and WSO Captain Miglin both survived. The aircraft had diverted to Fairford after bad weather at its home base RAF Upper Heyford. The aircraft was sent back to the USA for repair at the cost of $3.5 million.
July 1982 – The 11th SG took operational control of OL NAS Keflavik
According to Aircraft Illustrated January 1980 the first five aircraft on TDY in mid September 1979 were: KC-135As 63-8017 of 22nd BW, 57-1477 of 340th ARG, 64-14839 of 307th ARG and KC-135Qs 59-1510 of 380th BW and 58-0089 of 100 ARW. Little Rissington is  to be used as a support base, mainly for accommodation for USAF personnel, as it has been relinquished by the Army.
The Geese represent the Command Post call sign '3 Geese Control'
7020th Air Base Group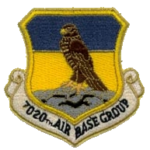 This article appeared in Falcon Facts, which suggests the emblem was produced circa March 1984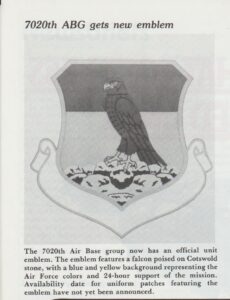 (Taken from the Fairford 1986 Open Day programme)
RAF Fairford's host unit is the 7020th Air Base Group (est 1 Feb 1979), which is responsible for providing support for the flying mission of the 11th Strategic Group as well as several other associate units.
Part of the US Air Forces in Europe and under the 3rd Air Force, the 7020th Air Base Group is responsible for a variety of services and organisiations on the base. These responsibilities includes such operations as security, finance, administration, supply, maintenance of base facilites, morale and recreational activities.
Five squadrons come under the group. They are the 7020th Headquarters squadron, 7020th Civil Engineering Squadron (est 5 Nov 1981), the 7020th Security Police Squadron, the 7020th Supply Squadron and the 7020th Transportation Squadron. The 66th Contingency Hospital at RAF Little Rissington, located some 25 miles north of RAF Fairford also comes under the group.
The 11th SG itself had no aircraft assigned to it, instead tankers from the continental US were assigned temporary duties (TDYs) to the base. A TDY typically lasted for 40-45 days although some were a lot shorter. While the aircraft were at Fairford they could be re-assigned again to forward operating bases that were also under the control of the 11th SG. These were Zaragoza (known locally as Zab), Riyadh and Keflavik, although the 306th at RAF Mildenhall took over duties at Keflavik in the early 1980s. There were usually a couple of aircraft at each forward location.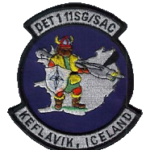 2160th Communications Squadron
Squadron existed from April 1st 1979 to October 1st 1990
1st October 1984: 2160th Communications Squadron became the 2160th Information Systems Squadron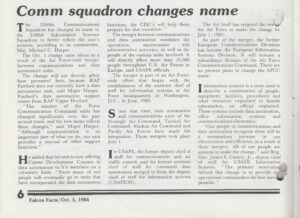 (Taken from the Fairford 1986 Open Day programme)
The 2160th Information Systems Squadron, part of the Air Force Communications Command ensures that the vital links between the various units at RAF Fairford and throughout the world are kept in working order.
The 2160th Information Systems Squadron, the second largest associate unit on RAF Fairford maintains the bases telephone systems, special "hotline" and long distance interbase lines, radios, teletype and cryptographic equipment, satellite communications equipment, weather equipment and aircraft navigational aids. In addition all RAF Fairford air traffic control services are provided by the 2160th.
"STRENGTH THROUGH COMMUNICATIONS"
Other Units
In addition to RAF Fairfords major units, there are several smaller units on base which provide vital services.
Detachment 18 of the 28th Weather Squadron, a Military Airlift Command unit, supports flying operations with the most up to date weather observations and forecasts available. They are also responsible for warning the base of any impending adverse weather conditions.
The USAF Clinic (est 1 Aug 1981) provided a wide variety of medical and dental services to Air Force members and their families.
An Amercian post office – complete with US Stamps and letter boxes – is run by the 7025th Air Postal Squadron, Operating Location OSO5. Their American families can mail letters to and receive letters from friends and family back home through the US postal system.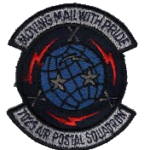 According to the Open Day 1983 programme there was also Detachment 6208 of the Office of Special Investigations, and the Department of Defense Dependent School System.
I have also seen mentioned the 42nd Strategic Squadron, which was under SAC. It was inactivated when the 11th SG disbanded.
Rapier Unit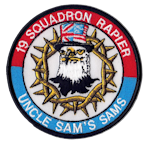 Although not USAF, it's worth noting the commission of number 66 Squadron RAF Regiment (formed on 5th November 1984), which was the first Rapier unit dedicated to the protection of US bases in the UK. Number 19 Squadron RAF Regiment is to protect RAF Upper Heyford and RAF Fairford, it's admin HQ is at Brize Norton. (Centreline – Journal Of The Thames Valley Aviation Society March / April 1985)
Falcon Facts – Base Magazine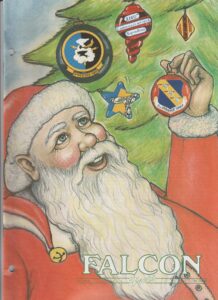 Fairford Falcons – Football Team
Skytanker Lanes – Bowling Alley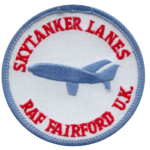 Skytanker Lanes – RAF Fairford U.K (Want)
Unknown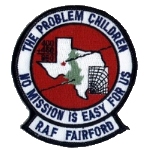 European Liaison Force One – (ELF-1)
In the fall of 1980 Iran and Iraq declared war, causing international concern. Crews and aircraft from the 552nd Airborne Warning and Control Wing were deployed to Riyadh, Saudi Arabia, to augment the Royal Saudi Air Force's radar coverage of Saudi airspace. In September 1980 four E-3s and almost 200 wing members again deployed to Saudi Arabia in an operation called Elf One (European Liaison Force One) which continued for over 8 years. They provided round-the-clock airborne radar coverage, and enhanced Saudi air defences during the Iran/Iraq war. Initially under USAFE control, this Elf-One contingent came under USCENTAF after its formation on 1 Jan 1983. The 963rd Airborne Air Control Squadron provided crew members and support personnel on 30-day temporary duty assignments to support the effort. On 15 April 1989 the last Elf-One E-3s and KC-135s left Saudi Arabia: the small element that remained later became the Elf-One Control Team (EOCT). In all, Elf-One aircraft had flown more than 6,000 sorties and 87,000 hours to protect the airspace of neutral countries during the Iran-Iraq War.
According to the South East Air Review (SEAR) February 1981 – 'Fairford is the base that supplies KC-135's for operations in Saudi Arabia. Two aircraft are away at any one time, each aircraft staying out there for two weeks.'
ITTF – Iceland Tanker Task Force
ZAB – Zaragoza Air Base Spain
OLIC – Operating Location Iceland
By 1981 the 11th SG were up to full strength with 15 KC-135s assigned to them. Flight crews for the KC-135s came with each aircraft although the 11th SG did have their own pilots, typically instructors. Maint crews were also permanently assigned to the 11th CAMS who formed the biggest squadron at Fairford. The KC-135s were typically from the 42BW, 7BW, 96BW, 410BW, 93BW, 92BW, 319BW, 509BW, 416BW, 379BW, 380BW, 97BW, 5BW and 2BW. The KC-135A was the most common visitor although in the late 1980s KC-135Es and KC-135Rs were sometimes seen
The 11th SG hosted KC135A and Q model aircraft on a rotation basis from CONUS.
KC-10 aircraft deployed to Fairford supporting missions such as Operation El Dorado Canyon in 1986 or B-52 deployments.
Fairford was the Queen Bee for all jet engines (supporting the KC135A & Q models for RAF Fairford and RAF Mildenhall)
and had a Jet Engine Intermediate Maintenance (JEIM) shop along with a jet engine test cell facility that supplied
spare engines to RAF Mildenhall. The 11CAMS won the award for best CAM in SAC more than once and several outstanding unit awards.
As well as tanker operations the 11th SG also hosted many other types of visiting aircraft –
these included the famous trips by the Presidential E-4 and the Shuttle carrying 747 in the 1980s.
The airlift aircraft, the C-141s and C-5s, were also regular visitors to the base helping to support the European theatre.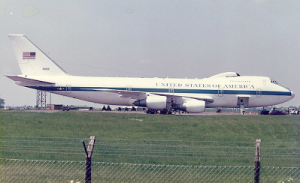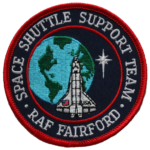 20 May 1983 Shuttle Enterprise and Boeing 747 NASA 905 visited Fairford whilst en-route from the USA to Bonn. In 1993 NASA chose Fairford as an abort landing site for the Space Shuttle due to the closure of RAF Upper Heyford.
Shuttle Enterprise and Boeing 747 NASA 905 as viewed from the Tower balcony, 20th May 1983. Pictures Arthur Tee
Aircraft Illustrated September 1987 report on Fairford KC-135s refueling a B-1b from the Paris airshow en-route back to the USA
In 1990 as part of the global stand down following the end of the Cold War the 11th SG was de-activated, with a ceremony taking place on August 7.  The 7020th Air Base Squadron was formed 1 October 1990 to keep RAF Fairford an active, viable facility.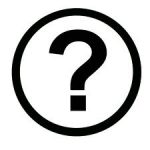 The refuelling role of the base had moved to combine with RAF Mildenhall's, with the final ETTF refuelling sortie taking place on 25 June and on June 27 1990 the last tanker left RAF Fairford. By the end of Aug 1990 the tanker operation had finished, just as Saddam invaded Kuwait. Within 6 months the base had B-52s forward deployed waiting to go to war. No matter what happens something somewhere always happens to remind the Pentagon of the value RAF Fairford gives the western world.
Alternate Patch Colours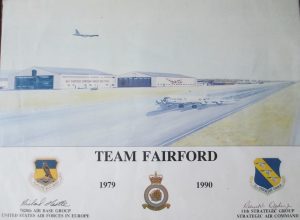 This print was commissioned to commemorate the drawdown of RAF Fairford in 1990. The artist, D. J. Davies, is a local talent and does this as a hobby – not a profession. The price was $5 and was limited to a series of 500