OP ALLIED FORCE / NOBLE ANVIL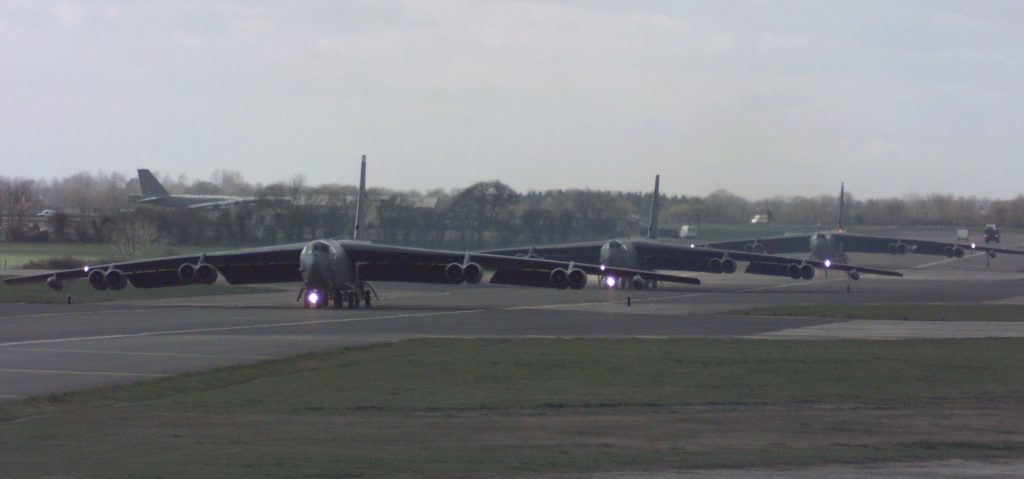 With the failure of diplomacy to resolve the Kosovo situation, the morning of 24th March saw the start of the bombing campaign, when eight 'buffs' launched as 'Havoc 11-18'. Two aircraft returned as spares and six continued on the mission armed with Conventional Air Launched Cruise Missiles (CALCMs).
Callsigns used during the evening recovery were 'Reset 11-16'. Over the following days, two and three-ship missions were launched, whilst a number of aircraft returned to Barksdale, with replacements arriving at Fairford with CALCMs carried internally. Mission launches throughout the first week at Fairford were covered by multiple TV crews, and were no doubt broadcast around the world.
The first KC-135 of the 366th Wing at Mountain Home AFB arrived at Fairford on 31st March, with an eventual complement of five aircraft flying daily refuelling missions using 'Riyal' callsigns. Five 28th BW B-1Bs arrived as 'Razor 11-15' on 1st April, and were soon flying daily missions armed with Mk 82 bombs. Further B-1Bs were rotated through the base in the following weeks, although the complement never rose above six Lancers.
As the air campaign intensified, the B-52 force switched to the conventional bombing role, with freefall weapons carried internally and on the wing pylons. Typical strike packages comprised two B-52Hs and two B-1Bs, with 'Havoc' and 'Razor' callsigns being used by both types. Further B-52Hs arrived from Barksdale and Minot on 1st May using 'Tiger' callsigns.
Two aircraft crossed the Atlantic with laser guided bombs on the wing pylons, and a further two arrived with AGM-142 'Have Nap' TV guided missiles. One of the heaviest raids of the war was launched on the evening of 10th May, when a mixed package of B-52s and B-1Bs departed using callsigns ' Havoc 11-14', 'Razor 11-12' and 'Titus 41-42'.
A peace agreement between NATO and Serbia was signed on 9th June, following heavy B-52 raids on Yugoslav army units in Kosovo, widely reported by the media. By 20th June, eleven B-52Hs, five B-1Bs, and five KC-135Rs were still present, at which time bombs had been removed from wing pylons.
Once it became clear that the Serbs had complied with the terms of the settlement, and had withdrawn from Kosovo, the massed air armada in Europe began a quick process of redeployment. The B-52H force left Fairford en-masse on 23rd June, when 8 aircraft returned to Barksdale as Brock 11, 13, 15, 17, 18, 19, 20 and 21, whilst the 3 Minot machines returned home as Hazan 12, 14 and 16. The B-1Bs departed for Ellsworth on the following day using the familiar Razor callsigns, and the KC-135s departed on 25th. With the withdrawal completed the only aircraft movements were AMC transports collecting ground equipment and personnel.
http://sharpshooter-maj.com/html/profil05.htm
More detailed information on B-1B Operations can be found here
Logs from British Aviation Review (BARG) Feb/Mar/Apr/May/June 1999 and Military Aviation Review (MAR) Mar/Apr/May/June 1999
16th Air Expeditionary Wing
Aviano AB, Italy
Formed specifically for the Kosovo crisis with responsibility for the 2nd AEG at RAF Fairford
2nd Air Expeditionary Group
Colonel Floyd L. Carpenter
2nd Air Expeditionary Group was formed with aircraft from CONUS based 8th Air Force units to conduct strike missions as part of 'Operation Noble Anvil', the USAF part of 'Operation Allied Force'.
20th Expeditionary Bomb Squadron
Lt Col Timothy S. Leaptrott
11x B-52H's – 11th BS/20th BS/96th BS Barksdale AFB, 23rd BS Minot AFB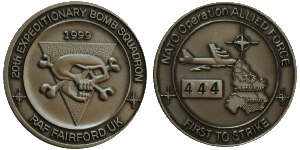 77th Expeditionary Bomb Squadron
5x B-1B's, 28th Bomb Wing, Ellsworth AFB
I was contacted by a B-1B Crew Chief deployed to RAF Fairford during OP Allied Force. He has shared some images of items that were given to him during the deployment.
Propaganda leaflets dropped from B-52's into Serbia
77th Expeditionary Bomb Squadron Challenge Coin and T-Shirt – 'Born In Combat' relates to the 77th Bomb Squadron reactivation on the 1st April 1997, with an Operational Readiness Exercise due to start in April 1999, certifying an operational squadron. Instead April 1999 was the start of the squadron's deployment to RAF Fairford for OP Allied Force.
Flag flown over Serbia – In the stat printout it says "8 seat cushions soiled" because the first 2 soties that came back, the air crew were not expecting the air to be so well defended, so when they returned to RAF Fairford, they climbed down from the jets and immediately kissed the ground, thankful to have returned in one piece.
22nd Expeditionary Air Refueling Squadron
5x KC-135R's, 366th Wing, Mountain Home AFB
European Air Refueling
106th Expeditionary Air Refueling Squadron
RAF Brize Norton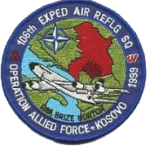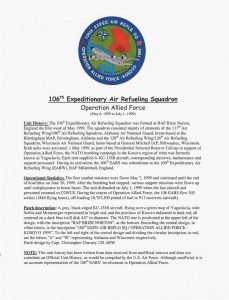 100th Expeditionary Air Refueling Squadron
RAF Mildenhall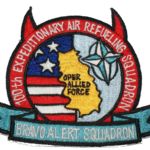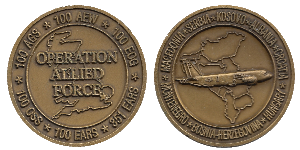 99th Expeditionary Air Refueling Squadron
NAS Sigonella, Italy
Other European Air Refueling bases include – Aviano (6th ARW KC-135R), Budapest (PA ANG, WA ANG KC-135E), Frankfurt (KC-135E/R & KC-10A), Incirlik (NJ ANG KC-135E), Istres (AFRC KC-135E), Mont de Marsan (KC-135R/T), Moron (KC-135R/T & KC-10A), Souda Bay (UT ANG KC-135E)
by John P. Williamson
100th Air Refueling Wing historian
3/17/2009 – RAF MILDENHALL, England — When NATO's Operation Allied Force began on March 24, 1999, the Air Force activated the 100th Air Expeditionary Wing to "deploy, to receive, and to operate forces in support of NATO and U.S. operations."
This air flotilla of U.S. active duty and Air National Guard forces supported and refueled NATO and U.S. fighters, bombers and reconnaissance aircraft before and after their combat sorties to extend their loiter time and maximize their combat capability.
The American portion of the operations was called Operation Noble Anvil.
Four squadrons – the 351st Air Refueling Squadron, 100th Expeditionary Air Refueling Squadron, 106th Expeditionary Air Refueling Squadron, and the 22nd Expeditionary Air Refueling Squadron – and Air National Guard forces formed the backbone of the air refueling effort, flying a combined force of 51 KC-135 tankers for a total of 1,575 sorties, 14,395 hours, offloading 64,746,100 pounds of fuel to 5,245 NATO and U.S. receivers from three UK bases – RAFs Mildenhall, Brize Norton and Fairford. The purpose of Allied Force was to stop Serbian atrocities against the people of Kosovo.
The 100th Air Refueling Wing, 100th Operations Group and 351st Air Refueling Squadron were awarded the Kosovo Air campaign streamer for its part in the operation in 2008.
Statistics by Base:
RAF Mildenhall – 100th Expeditionary Operations Group
351st Expeditionary Air Refueling Squadron, Air National Guard (March 24 to-
April 8, 1999), 100th Expeditionary Air Refueling Squadron (April 9 to June 20, 1999)
– 34 KC-135 Stratotankers
– 1,139 sorties (average 12.8/day)
– 7,771.0 hours (average 87.3/day)
– Offloaded 47,746,600 pounds of JP-8 to 3,786 receivers (average 536,480 pounds to 43 receivers daily)
RAF Brize Norton – 100th Expeditionary Group
106th Expeditionary Air Refueling Squadron
– 12 KC-135s
– 289 sorties
– 1,899.7 hours (avg. duration 6.7 hours)
– Offloaded 10,340,700 pounds of JP-8 to 882 receivers (average 40,000 pounds per sortie)
RAF Fairford – 2nd Air Expeditionary Group
22nd Expeditionary Air Refueling Squadron
– 5 KC-135s
– 147 sorties
– 1,052.6 hours
– 6,658,800 pounds of fuel offloaded to 577 receivers (average 11,540 pounds per sortie)
http://www.mildenhall.af.mil/news/story.asp?id=123140018