On April 14 at 17:36 GMT 24 F-111E Aardvarks of 48 Tactical Fighter Wings 492 493 and 494 Tactical Fighter Squadrons departed from RAF Lakenheath with the intent that six would return after the first refuelling about 90 minutes out. At the same time five EF-111A electronic warfare aircraft of 42 Electronic Combat Squadron ECS of 20 Tactical Fighter Wing TFW took off from RAF Upper Heyford To save time and ease navigation a Tanker Force of 19 KC-10s from Barksdale AFB themselves refuelled by 10 KC-135s from 306 Strategic Wing RAF Mildenhall and 11 Strategic Group RAF Fairford were to accompany the F-111s on the attack.
At the first refuelling, six F-111Fs and one EF-111A broke off and returned to base. France Germany Italy and Spain although affected by Libyan trained supplied and supported terrorist attacks refused to cooperate in a strike and the USAF attack force navigated around France and Spain through the airspace over the narrow Strait of Gibraltar and then eastward over the Mediterranean until in a position to attack. This represented a gruelling round-trip flight of 6,400 miles over 13 hours requiring eight to 12 in-flight refuelling for each aircraft as opposed to the standard trained for NATO F-111 sortie of about two hours and placed a tremendous strain on crews and complex avionic systems of the aircraft.
The US Navys Sixth Fleet was to attack with the forces arrayed on two carriers. USS Coral Sea launched eight A-6E medium bombers for the attack and six F/A-18C Hornets for strike support. USS America launched six A-6Es for the attack and six A-7Es and an EA-6B for strike support. F-14s protected the fleet and aircraft.
Libyas air defence system was sophisticated, and its operators were acutely aware that an attack was coming. At about midnight GMT six flights of three F-111Fs each bore down on Tripoli. The first three attacking elements code-named Remit Elton and Karma were tasked to hit Qaddafi's headquarters and command and control center at the Azziziyah Barracks. Only two of the nine aircraft dropped their bombs. Another element
codenamed Jewel successfully struck the Sidi Balal terrorist training camp where there was a main complex and academy a Palestinian training camp and a maritime academy under construction. Two further elements Puffy and Lujac struck Tripoli airport with 500 pound bombs destroying and damaging a number of aircraft. 42 ECS EF-111As and Navy A-7s A-6Es and an EA-6B provided defence suppression support over Triploi using HARM and Shrike anti-radar missiles. While all three targets had been successfully struck only four of the 18 F-111s dropped successfully with 6 forced to abort due to aircraft difficulties or stringencies of the Rules of Engagement 7 missed their targets and one was lost. The F-111Fs spent only 11 minutes in the target area with anti-aircraft and SAM opposition from the outset confirming that the Libyans were ready. One aircraft
Karma 52 was lost almost certainly due to a SAM.
In the Gulf of Sidra Navy A-6E aircraft attacked the Al Jumahiriya Barracks at Benghazi and the Benina airfield with Navy A-7s A-6Es F/A-18s and an EA-6B provided defence suppression support.
News of the raid was broadcast while it was in progress. On the return leg one F-111F had to divert to Rota AB Spain because of an engine overheat.
Further Reading – www.afhistory.af.mil/FAQs/Fact-Sheets/Article/458950/operation-el-dorado-canyon/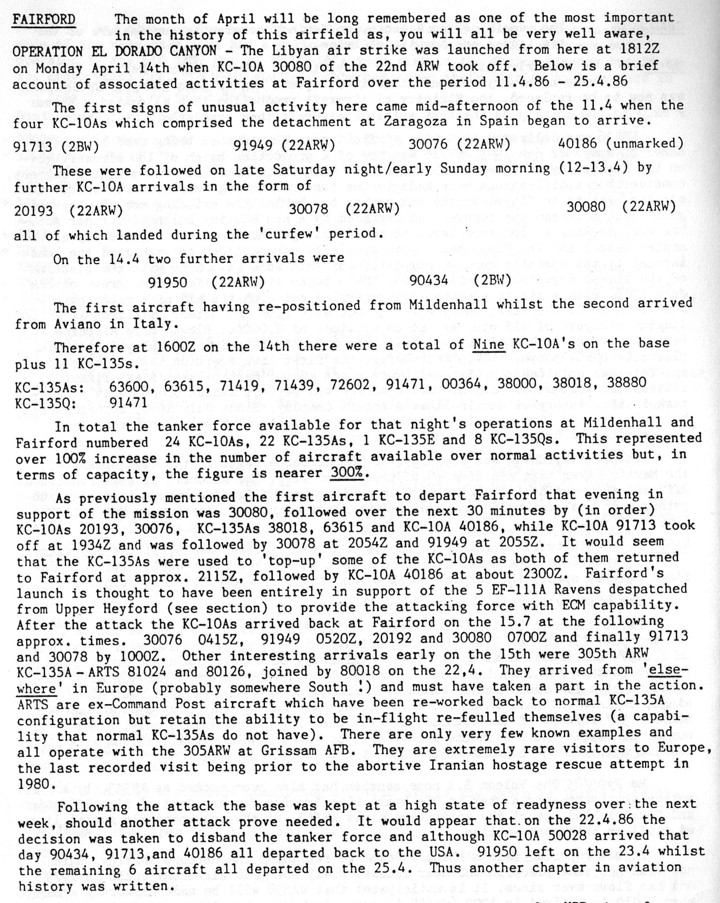 The May 1986 edition of BARG provided an excellent review of USAF aircrafts in the UK which took part in OP Eldorado Canyon
El Dorado